No way would the Sooke Region Museum be able to accomplish so much without the hundreds of volunteers who continue to lend a hand in such a variety of ways.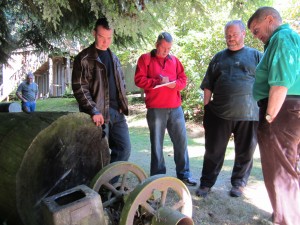 Whether it's helping to staff the museum's Gift Shop, the school program, helping organize special events, Open House, Snowman Building contests, serving at salmon barbecues, contributing musical performances, building exhibits, working at special fund-raising events, research projects, weeding the gardens, selling raffle tickets, cleaning the lens, proofreading, stuffing envelopes, and much more, volunteers have a great time working together. Typically, volunteers, staff and board members all get together to celebrate a sense of accomplishment and camaraderie with a potluck party in late August.
The volunteer work of today follows on the heels of the incredible dedication of the Sooke Lions Club and the Sooke Community Association in getting the museum established in the first place. Back in the mid-1970s it was the wonderful spirit and hard work of the Sooke Lions that initated the project, and it was the generosity and community spirit of the volunteers of Sooke Community Association that provided the property where it could be built. It is because of these groups and many others that have joined in to support the Sooke Region Historical Society, that the museum has become a cornerstone of community life.
If you've got a bit of spare time and energy that you might like to offer, please give us a call at (250) 642-6351, or drop by to chat with us.