Author Series FREE Family Events
Snorkelling Adventures Around Vancouver Island and the Gulf Islands
By Sara Ellison
Saturday June 10, 2023 3-4pm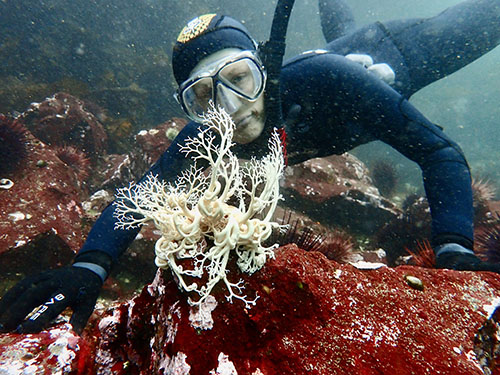 Come meet Sara Ellison, UVIC Professor, author and snorkeller extraordinaire! Sara's new book, "Snorkelling Adventures around Vancouver Island and the Gulf Islands," is full of amazing underwater photos and includes 51 places to snorkel in this incredible part of the world in which we live. On June 10th, join us at the museum to hear her stories, learn about the many snorkelling opportunities we have in our very own region and pick up some tips on how you too can be a snorkelling explorer.
Sara Ellison is a professional astrophysicist and a significant leader in the field of galaxy evolution. She is also an avid sportswoman, triathlete, and world traveller.
Tracking Giants: Big Trees, Tiny Triumphs, and Misadventures in the Forest
By Amanda Lewis
Tuesday June 20, 2023 7pm Free
A funny, deeply relatable book about one woman's quest to track some of the world's biggest trees. Join us for an evening of stories, photos and laughter as Amanda recounts her epic quest to find all the Champion trees in British Columbia (including adventures on Vancouver Island!) Amanda is excited to come to Sooke, where big trees have been such an important part of our history and identity.
AMANDA LEWIS is a big-tree tracker and an award-winning book editor. Born in Dublin, Ireland, she now divides her time between the internet and Gabriola Island, BC. Tracking Giants is her first book. Visit her at amandalewis.org
On Our Nature Walk
By Dr Jillian Roberts
New Date TBA
Join us at the museum for this fun family event with Dr. Jillian Roberts.  In honour of Earth Day this month, Dr Roberts will read from her book, "On our Nature Walk" (part of The World Around Us series) and talk about our impact on the environment. The museum has many of Dr Roberts' childrens' books for purchase and Dr Roberts will be available to sign your copy of any of her books.
Dr. Roberts' best known writings are for children and though deceptively simple, they are grounded in years of research. She writes from the heart and for the young facing life's greatest challenges. Her work strives to ignite hope and foster understanding, compassion, and resilience. Considered a go-to child psychology expert for journalists, Dr. Roberts is a regular contributor to the Huffington Post, Global News and the CBC. She is the author of two best-selling and award-winning series of children's books. "Just Enough" explains topics like birth and diversity to children ages 3-6, while "The World Around Us" introduces kids ages 5-8 to issues like poverty and online safety. She is also the author of "Kids, Sex & Screens: Raising Strong, Resilient Children in the Sexualized Digital Age", a book for parents seeking to help their preteens navigate our hypersexualized world. In addition to being a highly sought after registered psychologist, tenured associate professor and author, Dr. Roberts is also a wife and a mom to three children.